Te Wiki Kua Hipa: Māori Party Round-up - February - 23 - 2012

---
Te Wiki Kua Hipa: Māori Party Round-up
24 February, 2012

Mā te tangi me te tuku hūpē kia rere, ka ea te ngau o mate, o aituā. Āpiti hono, tātai hono, ko rātou te hunga kahurangi ki a rātou anō, ko tātou te hunga ora ki te hunga ora e takatū nei i te mata o te whenua, ka nui te mihi.
E te tī, e te tā, tēna rā koutou kua tatū mai nei ki te pānui tuatahi mo te tau 2012. Kei wareware tātou i ngā ringa raupā e kaha tiaki ana i ngā haukainga maha o te motu. Ko te tūmanako i whai wā koutou ki te whakatā i ngā rā o te raumati.

SOE's and section 9
The National Party announced yesterday that the government will be looking to include "the concepts" of Section 9 of the SOE Act into the Public Finance Act, the proposed legislation that will govern the mixed ownership model enterprises. In response, our MP's sought to remind the public of the commitment and determination of whanau, hapu and iwi to engage in the consultation process. Although this is a 'work in progress' we aim to continue on the right path and it would appear that the National Government have listened and taken our stance into consideration.
Urewera trial
Te Ururoa, last week, attended the opening trial of the Urewera 4 to support his constituents. We think Te Ururoa said it best when he compared this debacle to the scorched earth policy of the late 1800's. It is indeed history repeating itself.
Christchurch
This week we looked back at the year since the Christchurch earthquake. We remembered those lives lost, and we acknowledge the hard work put in, and continued by the people of Ōtautahi and surrounding suburbs. It is true in the sense that out of the dust comes strength and resilience, and we are grateful for initiatives such as the Kaihanga Collective who will work towards assisting our rangatahi into trades as well as contribute to the rebuild of Ōtautahi.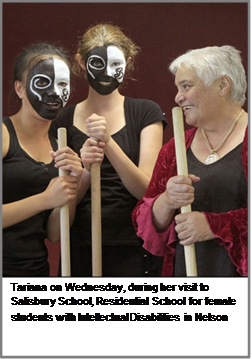 Pokies
The fourth International Gambling Conference was held at Orakei Marae this week. Both Tariana and Te Ururoa spoke at the event. Gambling harm; are the solutions really in our hands?
Rugby World Cup
And finally, survey results released last week showed huge popularity for the Waka Māori at the Rugby World Cup late last year. Dr Sharples credits the foresight of Ngāti Whātua and believes the message was clear in that tikanga Māori is a huge advantage.

The Maori Party welcomes your feedback: maoriparty@maoriparty.org


---
Kia ora Subscriber ,
If you wish to unsubscribe to these regular updates please click on this link: #